1. International Certification


IEC test report

The IEC standard, the International Electrical Commission, is a worldwide standardization organization composed of electrotechnical committees from many countries. Its purpose is to promote standardization in the world of electrical and electronic fields. Founded in 1906, the IEC is the world's first international standardization organization. The IEC is just an organization name, not a certification. The IEC certification we usually refer to is generally the CB certification described below.


CB certification


The official name of the CB system is "Scheme of the IECEE for Mutual Recognition of Test Certificates for Electrical Equipment". CB is simply an abbreviation of "Certification Bodies' Scheme". The National Certification Body (NCB) is a certification body that issues a nationally recognized certificate of conformity to electrical products.


Certificate report

The CB Report is a standardized report that lists the requirements of the relevant IEC standards in a tabular list. The report provides the results of all tests, measurements, verifications, inspections, and evaluations required, and these results should be clear and unambiguous. The report also includes photos, circuit diagrams, images, and product descriptions. According to the rules of the CB system, the CB test certificate is valid only when provided together with the CB test report.

Certification application notes: a) no factory inspection is required, b) it is necessary to list the country for inclusion in the report so that the corresponding country differences can be taken into account during the test.


2. European certification (ROHS, CE, GS, VDE, E-Mark, ErP, EN71)


We'll just introduce two important certifications.

ROHS

RoHS is a mandatory standard enacted by EU legislation. Its full name is Restriction of Hazardous Substances. The standard was officially implemented on July 1, 2006.
It is mainly used to standardize materials and process standards for electrical and electronic products, making it more conducive to human health and environmental protection. The purpose of this standard is to eliminate lead, mercury, cadmium, hexavalent chromium, polybrominated biphenyls and polybrominated diphenyl ethers in motor electronics, with a focus on lead levels not exceeding 0.1%.

Scope of application:

27 member states of the European Union: France, Germany, Italy, Netherlands, Belgium, Luxembourg, United Kingdom, Denmark, Ireland, Greece, Spain, Portugal, Austria, Sweden, Finland, Cyprus, Hungary, Czech Republic, Estonia, Latvia, Lithuania, Malta, Poland, Slovakia, Slovenia, Bulgaria, Romania.


CE



CE certification pertains only to the aspect that the product does not endanger the basic safety requirements of human, animal and goods, rather than the general quality requirements. Therefore, the CE mark is a safety pass mark, not a quality pass mark.It is the "main requirement" that constitutes the core of the European Directives.
The "CE"(abbreviated from Conformité Européenne)mark is a safety certification mark and is regarded as a passport by which the manufacturer opens and enters the European market.

In the EU market, the "CE" mark is a compulsory certification mark. Whether it is a product produced by an enterprise within the EU or a product produced by another country, in order to freely circulate in the EU market, the "CE" mark must be affixed to the product to indicate that it meets the basic requirements of the EU Directive on Technology Coordination and Standardization.


3. Americas certification (FCC, DOT, UL, ETL, CSA, IC)


FCC

The full name of FCC is Federal Communications Commission. an independent agency of the US government established by Communications Act of 1934 directly responsible to the Congress.
The FCC coordinates domestic and international communications by controlling radio, television, telecommunications, satellite and cable.
Involving 50 states of the US, theFCC ensure the safety of radio and wire communication products related to life and property, the FCC's Office of Engineering and Technology is responsible for the technical support of the committee and is responsible for equipment approval and related affairs.

Almost all radio appliances, communications products and digital products require FCC approval to enter the US market.


CSA certification

CSA is the abbreviation of the Canadian Standards Association. It was founded in 1919 and is the first non-profit organization in Canada to develop industry standards. Products such as electronics and electrical appliances sold in the North American market require safety certification.
CSA is currently Canada's largest safety certification body and one of the world's most recognized safety certification bodies.
It provides safety certification for all types of products in machinery, building materials, electrical appliances, computer equipment, office equipment, environmental protection, medical fire safety, sports and entertainment. CSA has provided certification services to thousands of manufacturers around the world, and hundreds of millions of products bearing the CSA logo are sold in the North American market every year.


UL certification

UL is a shorthand for Underwriter Laboratories Inc. The UL Safety Laboratory is the most authoritative in the United States and the largest private institution in the world for safety testing and identification. It is an independent, profitable, professional organization that tests for public safety.

In layman's terms, the UL2272 is a U.S. certification awarded to electrical mobility devices that have met the standards of a comprehensive system of safety tests. The testing parameters include both electrical and mechanical components as well as environmental aspects to assess electrical safety. The assessment takes into account how resilient the devices are against impact, extreme temperatures, water exposure and other factors. Under these conditions, signs of short circuiting and imbalance charging would indicate a possibility of fire and therefore deemed as less than ideal in regard to electrical safety.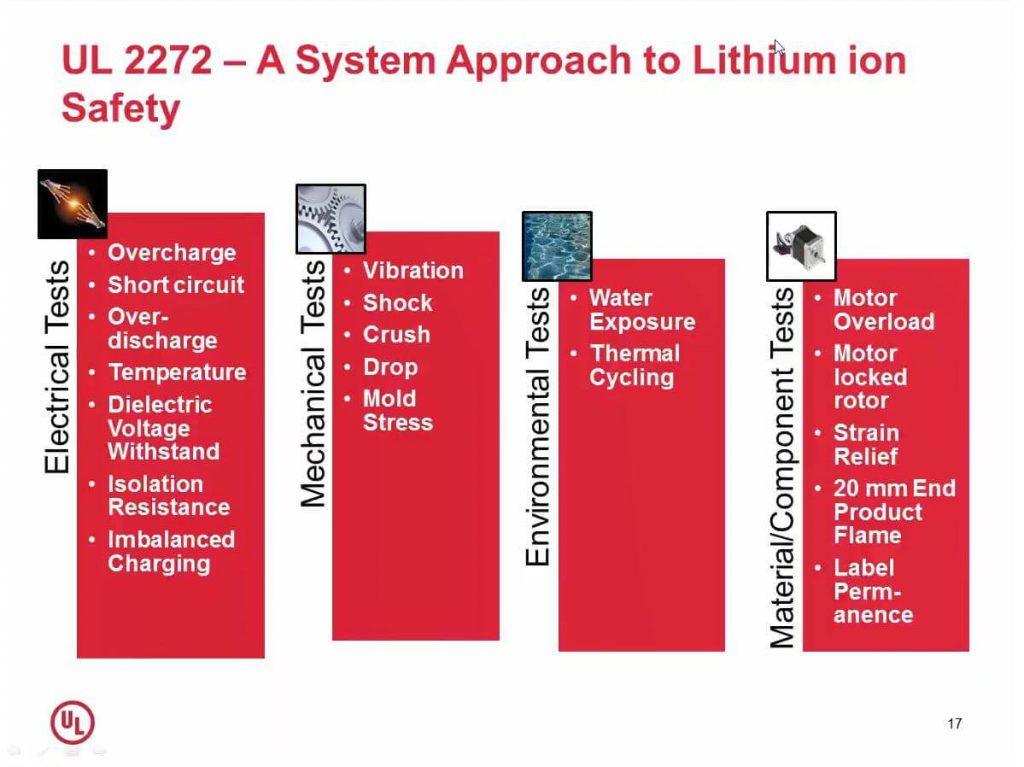 With the rising cases of fire incidents caused by the then popular self-balancing scooters (AKA hoverboards), the U.S. Consumer Safety Product Commission (CSPC) grew increasingly concerned about the safety of users. According to CSPC, there were 52 reported fire incidents caused by hoverboards over a short span of less than 3 months (1 Dec 2015 – 17 February 2016). This has resulted in more than US$2 million worth of property damages. In response, UL developed a testing standard specifically to evaluate the safety of these self-balancing devices. In 2018, the scope of UL2272 was then expanded to include testing of e-Mobility devices including e-scooters and e-skateboards. This version is known as the 2nd and current edition of UL2272.

It uses scientific testing methods to determine the extent to which various materials, devices, products, equipment, buildings, etc. are hazardous or harmful to life and property. As a result appropriate standards are issued to help reduce loss of property and life. UL certification is a non-mandatory certification in the United States, primarily for the detection and certification of product safety performance. The scope of certification does not include the EMC (electromagnetic compatibility) characteristics of the product.

In short, it is mainly engaged in product safety certification and business safety certification business, and its ultimate goal is to obtain a fairly safe product for the market and contribute to the protection of personal health and property safety. Regarding product safety certification as an effective means of eliminating technical barriers to international trade, UL also plays an active role in promoting the development of international trade.

Nowadays, electric scooters imported from the United States, Canada, Malaysia, and Singapore all need to pass UL certification.


4. Asia(PSE, VCCI, TELEC, KC, KCC, CCC ,NCC)


CCC

CCC certification is the 3C certification that everyone often hears. It is also known as the "Compulsory Product Certification System". It is a kind of Chinese government system to protect consumers' personal safety and national security, to strengthen product quality management according to laws and regulations.

It is a product conformity assessment system. The name CCC is an abbreviation of the the English name China Compulsory Certification.
CCC certification is the 3C certification that everyone often hears. It is also known as the "Compulsory Product Certification System". It is a kind of Chinese government system to protect consumers' personal safety and national security, to strengthen product quality management according to laws and regulations. It is a product conformity assessment system. The name CCC is an abbreviation of the the English name China Compulsory Certification.

The "3C" certification was fully implemented from May 1, 2002 (later postponed to August 1), and the original product safety certification and import safety quality licensing system were abolished at the same time.


The first products listed in the compulsory certification catalog include wire and cable, switches, low-voltage electrical appliances, power tools, household appliances, agricultural tires, agricultural truck tires, audio and video equipment, information equipment, telecommunications terminals, motor vehicles, medical equipment, and safety and prevention equipment, etc.

It should be noted that the 3C mark is not a quality mark, but a basic safety certification.


5. Relative battery certification(UN38.3, MSDS, EN62133)


EN62133

This certification is mainly for rechargeable batteries, alkaline or other non-acid electrolytes/sealed portable battery safety requirements.
The test items include continuous low-rate charging, vibration, high-temperature mold stress, high and low temperature cycle, reverse charging (nickel), external short circuit, free fall, mechanical shock, heat abuse, extrusion, low voltage, overcharge (nickel, lithium) Discharge, high rate charging.


UN38.3

According to the requirements of civil aviation regulations, airlines and airport cargo collection and transportation departments should review the transportation documents of lithium batteries.
The most important is the safety test report of each type of lithium battery UN38.3.
The report may be provided by a third-party testing agency designated by the civil aviation or by a battery manufacturer with testing capability. If this test report is not available, civil aviation will ban lithium batteries for air transportation.


MSDS

MSDS (Material Safety Data Sheet) is a chemical safety data sheet. It is a document used by chemical manufacturers and importers to clarify the physical and chemical properties of chemicals (such as pH, flash point, flammability, reactivity, etc.) and the hazards to users' health (such as carcinogenic, teratogenic, etc.).

In European countries, the Material Safety Technology / Data Sheet MSDS is also known as the Safety Data Sheet (SDS). The International Organization for Standardization (ISO) uses SDS terminology, while the United States, Canada, Australia, and many Asian countries use MSDS terminology.

MSDS is a comprehensive legal document on the chemical characteristics provided by chemical production or sales companies to customers as required by law. It provides 16 physical and chemical parameters, blasting performance, health hazards, safe use and storage, leakage disposal, first aid measures and related laws and regulations. The MSDS can be prepared by the manufacturer in accordance with the relevant rules. However, in order to ensure the accuracy and standardization of the report, you can apply to the professional organization for preparation.


6. What certification Smilescooter own?

We have full certification for different markets.

European market: CE, RoHS. And we've already exported to European market for more than 40,000 units.

US/ Canada/ Singapore/Malaysia market: UL, FCC.

Meanwhile, we could help our customers prepare certifications in their local market. Like KC in Korea, and PSE in Japan, etc.